Blog Home
That's a Wrap -- Tips for Gift Wrapping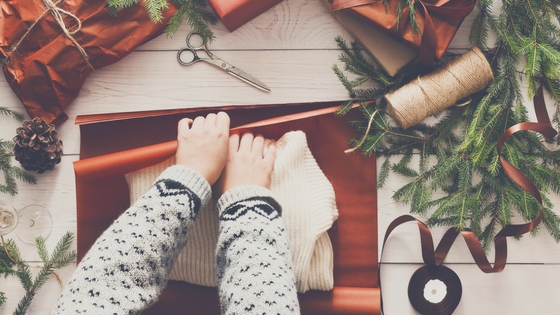 Last time, The Apartments at Charlestown Crossing Blog shared some thoughts about Black Friday shopping and how to get the best deals. This time around, we have some tips on getting the fruits of your shopping wrapped up and ready to give to the intended recipients. So pick up some tape and wrapping paper from your favorite North East, MD discount store, cue the holiday tunes, gather up the rest of your supplies, and get the holiday gifts all wrapped up.
Work off a list.
It can be easy to lose track of what you've bought, who items are for, and which gifts you've actually wrapped if you're wrapping all month long. So keep track of what's going on by creating a master list of your purchases. Organize the list according to who the gifts are for, and make notes of which ones you've wrapped and where you've stored them. This will help ensure you don't accidentally buy multiple items and you don't lose any.
Start now.
Wrapping all your gifts can take hours. Do all you can to avoid leaving it until the night before they're to be opened by starting today! Wrap a gift or two in a few spare minutes every day and you'll have a big chunk of your wrapping list taken care of in no time. Wrap while you socialize with friends, while you watch a movie, or before bed to get it out of the way faster and to make it feel more natural.
Try alternatives to gift wrapping paper.
Especially if you're wrapping last-minute, it can be a pain (and probably not worth it!) to go to the store at odd hours of the night to buy a whole roll of extra wrapping paper when you run out. Instead, use material like newspaper, butcher paper, tissue paper, and even creative wrapping paper alternatives you might have around the apartment, such as a T-shirt or a scarf. It will make your gift look beautiful, fun, and creative, without costing much extra to you!
Chances are, as you are wrapping, you may realize that you got the wrong size, or style, or something may be broken, or you completely forgot someone on your list. Here are a few last-minute gift ideas to get you back on track!
Last-Minute Gift Ideas
It happens every year: suddenly you need a gift for someone you either forgot or didn't think about getting a gift for. But with a little planning and creativity, you can be prepared ahead of time. Food is always a good option, whether it's a gift basket filled with cheeses and crackers or fruit or a mix in a jar for cookies or homemade soup, it's a fun way to share.
Movie passes or tickets to a concert, theater, or sporting eventing are easy last-minute gifts. Passes to a rec center or museum may be just the thing for someone on your list. Lessons or classes make a great gift, too. How about fencing classes, painting lessons, or cooking lessons? So many things are available, you'll surely be able to find something that matches your recipient's interests.
What tips and tricks do you have for getting it all wrapped up? Feel free to share in the comments. We want to wish all of the residents of our apartment community happy holidays! Thanks for reading today's blog post.